Our Industry Club is one way to establish and maintain bidirectional links with external industrial partners and organizations interesting in following our work, exploring collaboration opportunities, or working with us:
The Industry Club will send out a newsletter a few time per year containing updates about our activities, highlights from the field of control, invitations to meetings and events, and information about opportunities for collaboration.
To get in contact with us, or to unsubscribe from the newsletter, please send an email to contact.industryclub@control.lth.se
Welcome!
Industry Club Day, June 8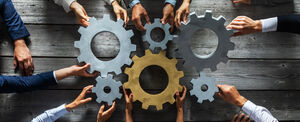 Now it is finally time to sign up for the Department of Automatic Control's Industry Club Day
2023. It will take place on Thursday June 8, at 15:00 – 18:00. The location will be the seminar
room in our newly renovated offices in the M-Building at Ole Römers väg 1. If you enter the
building from the west side, you go up the stairs to the right two floors and there it is. It
might be a bit unfinished though, but hopefully we will manage. If there is enough interest,
we will arrange a tour of the building, including the new robot lab location, after the
meeting.

Program
This event is aimed for networking and sharing ideas and thoughts. The program will contain
round table discussions and networking, among other things.

Welcome
Industry Club Group - Karl-Erik Årzén.

Info from the department
Master Thesis collaboration with industry incl set up and some statistics; Bo Bernhardsson,
contact for master thesis collaboration/ undergraduate studies.
ChatGPT-4 and Large Language Models
What are the implications of large language models for research and education
Bo Bernhardsson and/or Johan Grönqvist, PhD student.
Demo Brain Computer Interfaces
Pex Tufvesson, Industrial PhD student and Martin Gemborn Nilsson, PhD student at
Automatic Control department.

Round table discussions
We will have three "round tables" covering Master Thesis, WASP calls for Industrial PhDs and
Postdocs and Joint research proposals/applications to EU/Vinnova etc. Feel free to join any
of these discussions.

Mingle
Enjoy some snacks and drinks, mingle around, and take the opportunity to chat with peers.
M-Building Tour
Sign up! Send an email to contact.industryclub@control.lth.se before June 2. For more
information see invitation.
2023-06-08: Industry Club Day, an event aimed at networking and sharing of ideas and thoughts. Invitation here.